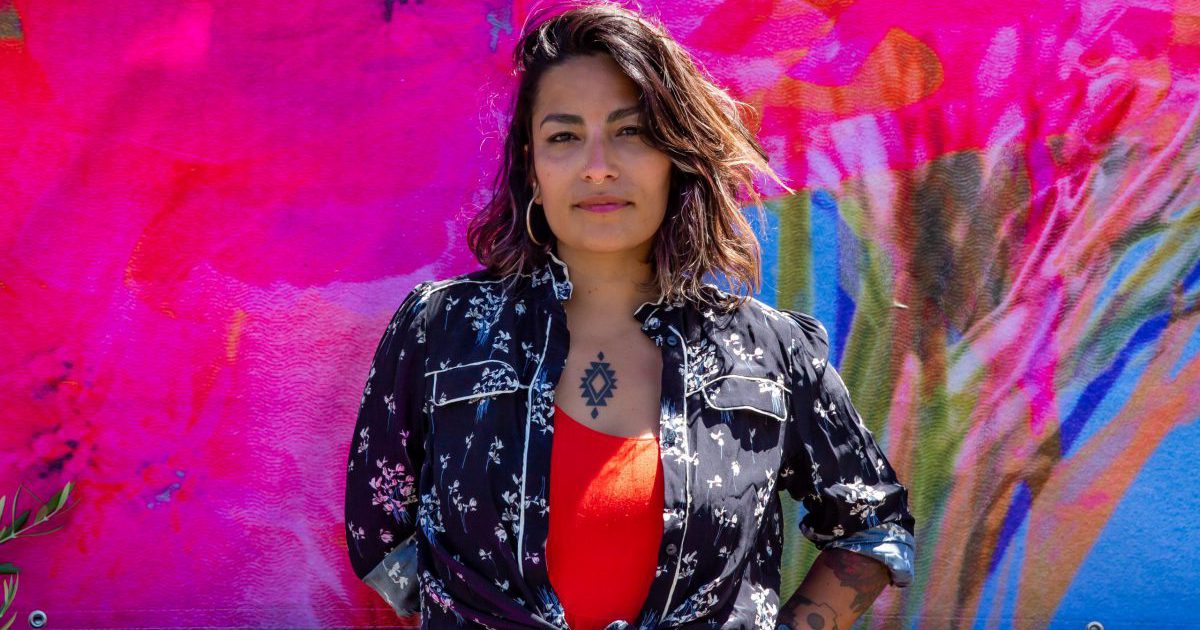 Artist and activist Ana Tijoux is looking for the right words
NAPA — Even successful songwriters like Ana Tijoux sometimes wonder if what they are doing is impacting people the way it should be.
The French-Chilean singer and rapper hasn't released an album since 2014. Although that's about to change, Tijoux has faced obstacles in recent years, not the least of which was finding what she meant.
"What's been harder for me right now is writing songs and wondering if anyone cares about what I'm writing," she said shortly before. to take the stage at BottleRock Napa in late May. "Sometimes there are clouds over my head, and sometimes I try not to pay attention to those clouds. … Sometimes I ask stuff like, 'Do people really care, or does nobody care?' I have all these questions, like everyone else, [in addition to] creative moments. »
It's not like Tijoux, who turned 45 in June, has nothing to say. This often outspoken woman is not just an artist but an activist. Born of Chilean parents exiled in France under the Pinochet dictatorship, his songs often address injustice, whether political, patriarchal, economic or religious.
Starting in the 90s in Santiago, Chile, in the underground hip-hop group Makiza, she continued to incorporate many sounds in her solo work, such as Latin music, rock, jazz. Her song "1977", from the 2010 album of the same name, was a surprise hit, receiving critical and musician acclaim, and expanding her fanbase in the United States.
She won a Latin Grammy and was nominated for a Grammy. Some have called her the Chilean Lauryn Hill, but another apt comparison is Rage Against the Machine's Tom Morello, also an outspoken critic of injustice of all kinds.
The two first met when Morello came to Santiago years ago, wanting to learn more about the oppression of dissidents in the country.
"He asked me to take him to a place where he wanted [see], and I proposed another place centered on torture and a place of memory," Tijoux said. "We went to meet the wife of [teacher, artist and political activist] Victor Jara.
The two collaborated on "Lightning Over Mexico", a song from his 2021 EP with the Bloody Beetroots, Disasters. The song was about 43 Mexican student activists who were disappeared by their government. While it's a softer song for Morello, Tijoux delivers bars that bring intensity.
"It's like a relaxed vibe, but very deep. It's different from what we know of Tom Morello," Tijoux said. "It's interesting because you can find another side of him in this song, another perspective of what he can bring to music.
Last March, she and Argentinian artist (and good friend) Sara Hebe teamed up and wrote the reggaeton banger "Almacen de Datos," which examines inequalities within the music industry and addresses creative concerns. de Tijoux regarding songwriting and the industry in general.
Is the goal to create art or to see how fast an artist can grow and use their social media to make money? How important is the actual message? Are artists selling their music or their soul?
"His idea was to bring all these concerns about the industry and how to take positions, and how we managed to sell ourselves," Tijoux said. "Everything is so absurd. So the song came together very naturally. We didn't have to ask ourselves so many questions about it. All that [was] the conversations we had went to each other.
She's released a handful of other singles since 2019, including "Cacerolazo" ("Saucepan," as if to bang pots and pans in protest); "Rebelión de Octubre" ("October Rebellion"); "Pa Que" ("For what?"); "No Estamos Solas ("We are not alone", on how women are mistreated in Chile); and the self-explanatory "Antifa Dance," which she wrote after the police killing of George Floyd.
"I think all these terrible deaths and all the absurdity of murder for racism and anti-semitic; it's all in the same boat," she said. "Of course, everything affects my music. … The lyrics say it all. I wondered how we got to this point where all this violence in politics corrupts so easily.
Ana Tijoux has spent much of 2020 at home. She has had plenty of time to reflect and try to understand the senseless fights, wars and other injustices in the world since then. As a mother – before this interview, she received a call from her daughter in France and brought her to bed – many of these worries have added urgency.
"Sometimes you have to find a balance between all this terrible news that is happening at the moment and at the same time trying, even if it seems very contradictory, to find some life again. Because otherwise you will be underwater. It can break you because it's all so absurd," she said. "The shootings that are happening right now here have made news all over the world. The more the pandemic, the more the war, the more [the U.S. oncoming loss of abortion rights]. It's back to America, like medieval. I try to stay in touch with what happened, but at the same time I try to be in psychiatric care. It's not that I'm not interested at all; on the contrary. The question is what can we do with all this information. We all need to be aware of all that has happened, so what do we do with it all?
"Being a mother in this world and all these issues, of course, is not always easy," she said.
These worries and other worries fuel her first album since 2014 Vengo. She's still writing and saying she doesn't know where she'll end up. But she is on her way to finally finding what she really means. And as always, Ana Tijoux will hold nothing back.
"I'm very interested in the idea of ​​utopia. I think we live at a time when utopia has been shattered," she said. "It's important to have utopias in society. … I think it's important to dream about something; another way of life. »
Follow editor Roman Gokhman on Twitter.com/RomiTheWriter. Follow photographer Nathan McKinley on Instagram.com/memories.by.mckinley.