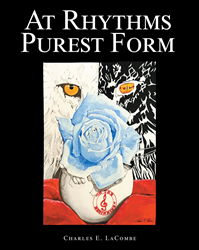 Charles E. LaCombe's new "At Rhythms Purest Form" is a pleasing arrangement of poetic writing with compelling original art

MEADVILLE, PA (PRWEB)
July 20, 2022
"At Rhythms Purest Form": a powerful arrangement of spiritually charged original pieces. "At Rhythms Purest Form" is the creation of published author Charles E. LaCombe, a devoted husband and father with a passion for travel, the arts and the outdoors.
LaCombe shares, "I'm sure we can all agree that people sometimes drive you crazy. Although we all have similarities, we are by nature quite different. We inherit our own generational quirks, a mix of inherited emotions and habits.
"I can honestly say that despite all of our differences and flaws as human beings, I had a certain love and care for people. It breaks my heart to see the pain in other people's lives. I'm sure we can also agree that there is a lot of pain in the world. Darkness has a hold on our culture; it's time to take the light and say, "Not anymore."
"This book is meant to shed light on this darkness that consumes our culture. It will stir up dust, make you curious and maybe a little angry. Extinguish all resentment. Push it out of your heart. It only generates more pain. Dig into the words; there are hidden meanings, in the hidden meanings, in these pages. We are expected to think and apply discipline and dedication to everything we do. Don't add to the laziness of our culture, be diligent and courageous. Go through the pain. We have nothing without nothing.
"For our light and momentary pains bring us an eternal glory which far exceeds them all. Thus, we fix our eyes not on what is visible, but on what is invisible, because what is visible is temporary, but what is invisible is eternal. (2 Corinthians 4:17-18)
"The Creator's message is all around us; this is what we are made for, the relationship to the Creator. Keep the line of communication constantly and endlessly open, and witness the many wonders. The Creator is ready to reveal the invisible, always and forever.
Published by Christian Faith Publishing, Charles E. LaCombe's new book will captivate and challenge readers as they take time for personal reflection.
LaCombe's subtle balance of vibrant imagery and thoughtful verses will charm and delight readers looking for a new opportunity for spiritual inspiration.
Consumers can purchase "At Rhythms Purest Form" in traditional bookstores, or online at Amazon.com, Apple iTunes Store or Barnes and Noble.
For more information or inquiries about "At Rhythms Purest Form," contact Christian Faith Publishing's media department at 866-554-0919.
Share the article on social networks or by e-mail: