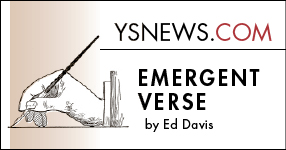 Emerging worms | Bending Time, Form, Convention • The Yellow Springs News
15-year Yellow Springs resident, longtime poet and local treasure Janeal Turnbull Ravndal is hooked. But it's a healthy addiction. As she says in one of the poems she recently sent:
I can't suppress the villanelle
it boils at every turn
and casts its tantalizing spell…
In effect! Nor do I, after reading her recent output, want her to consider abandoning that exacting old French form: 19 lines using two rhymed lines as refrains, with only two rhyming sounds throughout. It is obvious to me that she masters the form of the poem below which immediately delighted me.


FOLDED ON STRAIGHT
By Janeal Turnbull Ravndal,
for Mary Isabelle Gleason, physiotherapist
My current goal is to keep those shoulders back
my minimized belly, excess chin,
and patiently stumble along this trail
with cane and temperament well in hand. No lack
season or stage must win!
for now my goal is to keep those shoulders back
— an echo of my mother, Mary Mac
who added "Smile!" So for so long I've been
stumbling impatiently on this trail
towards an erected civility. Alas, alas,
both oppositional and shy, my sin
became sagging. I tried to keep my shoulders back,
somehow, but mostly, bothered by the fact
I dominated men and boys, even
intentionally strayed from the direct return path.
Eight decades later, with help, this new attack,
try to straighten up from neck to shin.
My current goal is to keep those shoulders back
and walk straighter, less bent, on life's path.
As complex as Ravndal's use of the villanel form is, it was actually the tone that first attracted me. The subject of her poetry frequently ages, and though she never takes her eyes off the havoc she wreaks, she does so with relentless good humor and shrewd observation. She's been working on it for a while.
In her introductory email, she writes, "My 84 years of satisfying life began in New England, including a farm, NYC, and two years in a Newfoundland port. Ohio stops include Cleveland, Wilmington, Barnesville and now Yellow Springs.
She also served a brief stint in federal prison after refusing to pay the fine following a Vietnam War protest. Her book, "From Parsonage to Prison: Collected Poems," was published by FGC Quakerbridge of Philadelphia in 2012 and is available from the Yellow Springs Library.
Janeal has been a frequent reader at the open mic at the annual solstice poetry readings and is a dedicated participant in the Peace Vigil on Xenia Avenue every Saturday at noon. She adds that she has "worked in a factory, a library, and as a cook, teacher, proofreader, stay-at-home mom, parent, and social worker." Janeal seems like a role model to me on how to live a life of meaningful activism and service, including her poetry, which helps me come to terms with my pervasive old age with humor and grace rather than resentment or despair.
His opening on "Bent on Straight" – "My current goal is to keep these shoulders back / my belly minimized, excess chin in and patiently stumble along this track" – is so humble that the readers will not be able to stop reading. Neither should they, given the delights that await them if they continue. Soon the author's mother, with the unforgettable name of "Mary Mac", intervenes, saying "Smile!" One can imagine the childhood anguish that such an order must have engendered. I remember parents, and even other adults, during my own childhood criticizing my posture as well as my grammar. We all eagerly "stumbled down that trail to" – ha! – "an erect civility", one of my favorite lines with its humorous double meaning of impeccable integrity and spinal health.
Despite the humor of the exclamation "alas alack", the poet begins to hint that this is a serious and difficult matter, such as "my sin has crumbled" (beautiful alliteration). We can easily imagine the clumsy teenager contorting her body in an attempt "not to dominate the boys". As a rule, however, good humor prevails with the fun and quick rhyme of "intentionally strayed from the back right track".
I'm right here with her, paying dearly for my own sins, now that I'm, uh, over 50. In keeping with the positive tone, she ends by referring to the "new attack" that likely led her to physical therapy. with Mrs. Gleason, to whom she gratefully dedicates the poem.
Villanelles end by repeating the chorus they started with, but with a twist or deepened context. For all her self-effacing, good-natured generosity, Ravndal sounds dead serious when she says, "My current goal is to keep those shoulders back / And walk straighter, less bent, through life's path." Me too, Janeal; Me too. I will also try to imitate your honest citizenship.
Also send me your poems at [email protected]