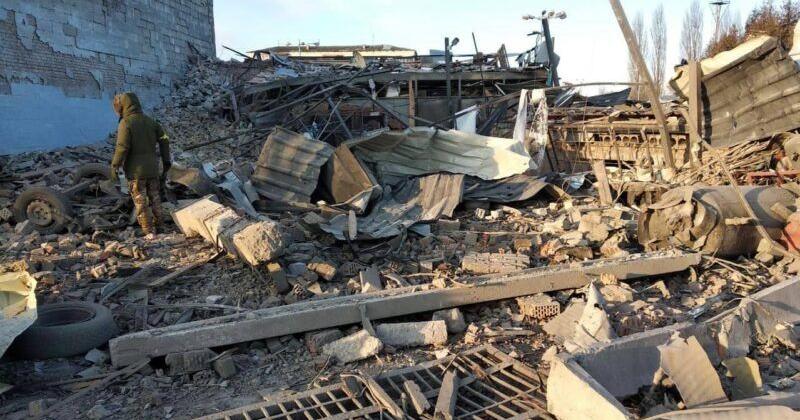 Hoffenberg: Ukraine suffers amid war of bombs, words | Business
Another of the first victims of the war against Ukraine is the truth.
Ivan Sonin, 32, and his wife Anastasia Sonina, 31, are the project manager and development manager for Boston Unisoft Technologies, a company owned by Paul Belogour de Guilford, who also owns the Reformer.
At the time of a video interview last week with Sonin and Sonina, the frontline was still about 62 miles from their hometown of Dnipro in eastern Ukraine; a few days later, the first Russian rockets landed there, injuring no one but wreaking havoc nonetheless.
Misinformation abounds
At the time of their Feb. 15 exodus from Ukraine to Sofia, Bulgaria, misinformation was flying, Sonin recalls. If the gossip was to be believed then, the couple ended up staying in Dnipro.
"There was information, like Russia says they have completed their training and will return to their stations. No need to fly to Sofia. But Paul [Belogour] said, 'No, no, they will fly to Sofia,'" Sonin said.
Later, while queuing at a security checkpoint, the couple heard a story that war had broken out, days before it happened.
The Kremlin kept broadcasting its messages on public media: the Russian Federation is carrying out a special military operation to save Ukrainians from the Nazis (armed by the United States, no less), and that the Russian army is striking only military targets and not civilians. President Vladimir Putin's government says it is the Ukrainians who are killing civilians.
A few days ago, a brave editor of a major Russian TV channel protested against the war, risking prison and a fine. More than 10,000 war protesters have been arrested there, as the Kremlin cracks down on the free flow of information. Facebook and Twitter are inaccessible on the Russian Internet, and on March 11 the Kremlin said it would also restrict access to Instagram.
Putin has blocked access to Western media and independent news sites in the country, and a new law criminalizes the dissemination of information that contradicts the government line.
Sonin: Ordinary Russians support the war
Sonin wants American readers to know that ordinary Russians support the war, because of this kind of propaganda. Sounds a lot like the echo chambers of partisan TV here in the US
He said Muscovites and other big city dwellers travel a lot and "they see how people live" in Europe and the United States. "But people from small towns never leave Russia," said Sonin, who thinks everyone should have a passport and see places other than home.
"The old people are staying there," Sonina added.
"They think Ukraine wants to destroy them," Sonin said. "They watch TV, they watch this propaganda, as if it says: 'In Ukraine, there is [are] Nazi people. They want to kill everyone around them,' and they really support the war," Sonin said.
Over the eight years of war with Russian-backed separatists, when you listen to the news in Russia, "you will see Ukraine, Ukraine, Ukraine, Ukraine. You turn on Ukrainian news, nothing," Sonin said. "[The Ukrainian] people don't care about them.
Knew Putin was aggressive
Sonin said he knew Russian President Vladimir Putin was aggressive and thought a blitzkrieg could happen, yet it surprised him again when the war broke out on Feb. 24.
When the bombs landed in Freedom Square in Kharkiv, the country's largest square, Sonin was still stunned. Kharkiv is where the couple often went for weekends.
"They start fighting and they start bombing. There was a rocket that came into the center of town where we [had been]. When you see something happening in some places you've never been, it's horrible, but it's not so horrible. But we were there," Sonin said.
His Russian extended family
Hearing Sonin talk about his relatives in Russia — uncle, aunt, and a cousin of the same age — smacks of the average American extended family: tone-deaf, inappropriate, and filled with political propaganda.
"[My] cousin, he lives there and he starts texting me when the war is coming. As the situation around Russian television evolved, its message changed all the time," Sonin recalls.
At first, his cousin joked that he could visit him the following weekend, as the Russian army would encounter no Ukrainian resistance.
"'I want to visit because Ukraine is nothing. There is no army. There is no country. That's his message," Sonin recalls.
The cousin doesn't like Europe either, Sonin said.
"He said: 'Europe, [like] Ukraine is nothing. Why will they bring you to the European Union? Because you are nothing. You should be with us or with another great country. And he said, 'Where is your friend? Where is the United States? Where is Turkey?
Aunt texts
His aunt sent him a video message, which he ignored.
"It's like the old people, they send you messages, like photos. I wasn't so happy," Sonin said. The message was that "the gifts for them had already arrived". The video showed Russian rockets as a gift. "She said, 'I'm not political. I don't do politics. I say, 'Sure, that's OK. But if you send me another of these photos, you will receive a video with dead Russians or dead civilians. Because it's not fun at all to send pictures like that.'"
His cousin then messaged, puzzled as to why Sonin would be upset.
"Just imagine you have a cousin in another country and he said, 'I support the war,'" Sonin said. Sonin said he and his cousin are "pretty close," but he hasn't seen him since 2014 and doesn't expect to see him anytime soon.
What's next for the couple?
Sonin and Sonina are unsure whether they will continue to stay in Bulgaria or move elsewhere. Maybe even go back to Dnipro.
Sonina said all aspects of their lives are back home in Dnipro.
"We actually have a lot there. We have friends. We have our apartments with everything. Like I miss my pillow already," Sonina said.
"We hope that at some point we can go home. We don't feel like refugees. We have money for our life. That's ok for us. We don't need help, but we want to go home," Sonin said.