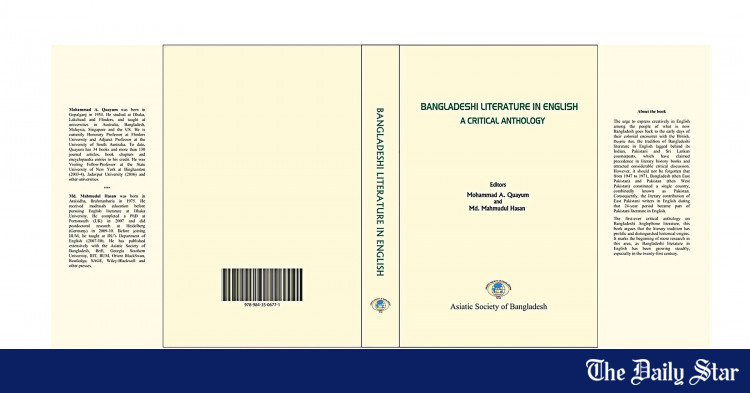 On a long-awaited critical anthology of Bangladeshi literature in English
For anyone with an academic or amateur interest in Bangladeshi writings in English, this book must be long awaited. The publication of Mohammad A Quayum and Md. Mahmudul Hasan – edited Bangladeshi Literature in English: A critical anthology (July 2021), perhaps the very first of its kind, therefore came as welcome news, and I commend the Asian Society of Bangladesh for publishing it amid the ongoing pandemic, this three cents -page useful collection with decent hardcover and flawless typesetting.
In the "editors' introduction", it is emphasized that the history of Anglophone Bangladeshi writing should not be understood to be contemporaneous with the birth of Bangladesh as an independent nation, rather the tradition dates back to the early days of the colonial encounter, in British Bengal, when The travels of Dean Muhammad (1794) had been published. It can therefore be considered "one of the oldest and most illustrious English-language literary traditions outside the English-speaking world". Publishers do not fail to record contributions from English middle schools, university English departments, English daily newspapers and their literary pages, literary anthologies sometimes published by newspaper presses – such as The Daily Star Book of Bangladeshi Writing (2006) or New Age short stories (2006) — literary festivals (like the Dhaka Lit Fest) to the growth of this creativity in post-independence Bangladesh. On the contrary, as they note, writers are eternally faced with practical and ideological challenges that impede their flourishing: the ever-persistent linguicism of Bengali, and the essentially deceitful position of the political/intellectual elite in this regard – one point also raised by Kaiser Haq in his interview here with co-editor Mohammad A Quayum, that although English is widely used in the country and embraced by writers as a creative medium, it "still lacks official status in the culture or constitution of Bangladesh".
For all the latest news, follow the Daily Star's Google News channel.
At present, Bangladeshi English Literature (hereafter BEL) is a substantial body of writings crossing different genres and themes, and the present anthology, understandably, cannot be exhaustive or fully representative of the tradition; rather, it represents, in the words of the editors, "some of the best critical material on Bangladeshi Literature in Englishh…, balancing it with discussions about the maximum number of new or established writers we could accommodate. The same logic explains why chapters could only include discussions of fiction and poetry, or why works by Bangladeshi writers from the diaspora take up more than half of the book's space.
One can only praise the careful organization of this collection: fifteen chapters are divided into four distinct sections, well titled; within the sections, again, the chapters are ordered chronologically according to the seniority of the authors covered. The inaugural section, "A Pre-Independence Pioneer" devotes two separate chapters to Begum Rokeya which explore some less trodden areas of Rokeya criticism: co-editor Mahmudul Hasan engages in "the encounter and representation of Rokeya with the Europe" while Ayesha Tarannum focuses on Islamic imagery in Rokeya's work. Hasan's use of the phrase "Muslim Bengal Writes Back" in the title of his chapter is indeed significant.
The next section, "Writings from Bangladesh", contains three chapters: Sabiha Huq explains how Niaz Zaman's novels offer an insightful web of micro-narratives that capture the individual destinies of women entangled in historical upheavals and national crises while Tahmina Ahmed shows how Kaiser Haq's poems are filled with allusions to diverse cultures and continents. In the final chapter of this section, Rifat Mahbub and Anika Saba discuss three "East Bengal/East Pakistan Partition Histories" by Syed Waliullah, Abu Rushd and Ashraf Siddiqui, all from Niaz Zaman's anthology, The escape and other stories.
The most important section, "Writings from the Diaspora" consists of seven chapters: Adib Khan and Monica Ali are given special attention with two exclusive chapters dedicated to each of them. Stefano Mercanti explores the tensions of displacement and belonging and the protagonists' relentless quest for self-knowledge in Adib Khan's Homecoming and Spiral Road while Andrew Hock Soon Ng decodes the "politics of the distorted body/space" in The Storyteller of Khan. In this section, Mahmudul Hasan writes about Monica Ali's Brick Lane and argues that "transplanting the South Asian model of domestic seclusion into the diaspora" proves "a futile patriarchal attempt" as women "will find ways to interact with the outside world" in this age of technological advancements and ubiquitous social media. Susan Stanford Friedman, for her part, reads the resonances of two classic accounts of early 20th century British and Irish modernism – Joyce's Ulysses and Woolf's Mrs. Dalloway – in Brick Lane, advocating ambiguity and the creative tensions of multiplicity. cosmopolitan. Ali appears again, along with Tahmima Anam and Zia Hider Rahman, in the chapter written by Fayeza Hasanat. Very interestingly, Hasanat finds parallels between Dickens' characters and those of these writers: Chanu from Brick Lane becomes a "postcolonial Pip" while Sohail from The Good Muslim builds his own Satis House on the edifice of religion. There is also a separate chapter on the fiction of Anam, where Farzana Akhter discusses how women, through the "politics of active national oblivion", confront a "masculine erasure" of their contributions to war and civil war. nation building. The remaining chapter of this section is devoted to Dilruba Z Ara's Blame, where Sanjib Kr Biswas and Priyanka Tripathi describe the story of this Swedish-Bangladeshi writer to show how "blame" seems to be a pretense under which family, society, the nation are all trying to nullify their respective crime against the biranganas.
The final section is something special about this compilation featuring intriguing/engaging conversations – the first two with acclaimed Dhaka-based first-generation writers from the post-independence period, and the third with a Bangladeshi-born artist. British. The interviews offer insight into their creative journey by highlighting the challenges faced, the inspirations behind their works, their accomplishments, the issues that most interest them, and also what they intend to write or undertake in the future. 'to come up. Jackie Kabir talks to Niaz Zaman and brings out the many facets of her creativity and the incredible amount of work – as a teacher, editor, writer, editor, translator – that she managed to do mostly "from behind the scene". The phrase in the title of Kaiser Haq's interview, "a nerd hijra," highlights, albeit playfully, Haq's ambiguity about himself as a writer. Of his iconic poem 'Ode on the Lungi', Haq recalls: "The poem took a while to germinate, but once I had the idea of ​​bringing in Walt Whitman, everything fell into place. square." Sanchita Islam is also a versatile genius – writer, photographer, music composer, painter – who believes, as she tells her interviewer Elisabetta Marino, that art can treat mental illnesses as well as many other illnesses of our time.
There are attempts to historicize a literary tradition, manifested in the publishers' meticulous study of the literary landscape from its beginnings until it becomes visible and dynamic, as well as in their concern to maintain the chronological order of the materials presented in the volume. There are also attempts to appropriate and highlight the discourse of BLE within the broader spectrum of Bangladeshi life, history and culture at large. It is therefore important that publishers consider the designation "Bangladeshi Literature in Englishfor their title, in line with MK Naik's History of Indian Literature in English (1990).
While the anthology will surely do BEL a huge service, it could have been a little more ambitious in terms of critical writer and genre coverage. In fact, the editors themselves express their displeasure at not being able to include chapters on writers like Nirad C. Chaudhuri, Razia Khan Amin and others, and on drama, autobiography, travelogue or d other types of prose. A significant part of the book is occupied by fiction, and the single article on poetry is not really up to par with the achievements of poets, especially the crowd of young poets. Despite these limitations, Bangladeshi Literature in English: A Critical Anthology remains an impressive collection and rewarding read, and I hope the volume can inspire creative writers as well as academic practitioners to flourish more enthusiastically in this ancient but still evolving literary tradition.
Maswood Akhter is a professor in the Department of English at Rajshahi University.