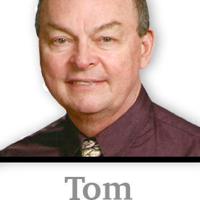 POWERFUL WORDS: Just passing through, can't wait to go to heaven | Religion
Some interesting facts about our state of Indiana:
Johnny Appleseed is buried in Fort Wayne.
US 231 is 231 miles long!
Clark Gable and his wife Carole Lombard spent their honeymoon at Lake Barbee near Warsaw. (Carole was born in Fort Wayne.)
Did you know that the roof of the Greensburg Courthouse is covered with a tree? Wabash was the first city in the United States with streetlights (first electrified city). Amelia Earhart was once a professor at Purdue University. The steepest railroad grade in the world is in Madison.
Tomato juice was first served at a French Lick hotel in 1925. Not surprisingly, the first tomato juice factory was built and operated there.
Famous people born in Indiana: James Dean (also buried here), Red Skelton (Vincennes), Frank Borman, astronaut (Gary). Others who have lived here: Mae West, Claude Akins, World's Tallest Woman, Sandy Allen, Forrest Tucker (Pendleton), Bob Griese, Tony Tenille (from Captain and Tenille).
Ninety percent of the world's popcorn is grown in Indiana! The Jackson Five (Michael, the youngest), are from Gary.
But "this world is not my home, I'm just passing through!" So what about paradise? What do you know of the eternal home in which we plan to reside one day?
Peter and John, apostles of Christ, tell us that this world will be destroyed, the heavens and the earth burned (2 Peter 3:10-12; Revelation 21:1). his promise, seek new heavens and a new earth, where righteousness dwells. 2 Peter 3:13 Have you ever read John's description of heaven?
John writes: "Then I, John, saw the holy city, New Jerusalem, coming down out of heaven from God, prepared as a bride adorned for her husband. … God will wipe away every tear from their eyes; there will be no more death, no sorrow, no more tears. There will be no more pain, for the old things have passed away. Revelation 21:2-4
It looks like the memories of loved ones not in heaven will be forgotten, along with all the painful memories on earth (maybe ALL the memories on earth?). Isaiah 65:17 says, "For behold, I am creating new heavens and a new earth; and the former will not be remembered or come to mind.
Revelation 22, beginning at verse 1: A pure river, clear as crystal, will flow from the throne of God down the main street! The Tree of Life, last seen in the Garden of Eden, will grow on both sides of the street, bearing 12 kinds of fruit! His children will be able to see the face of God, which is not possible in our human form of flesh and blood. There will be no darkness there, no night, for the Lamb IS the light, providing all that will ever be needed.
Much more is revealed in these last two chapters of the Bible. Streets of gold, gates made of solid jewels, a city built as high as it is wide and deep!
What won't be there? Wickedness, evil, anything that defiles – none of that will be allowed into the city. Read it! It's all there in these last two chapters of Revelation!
But only those dressed as a bride for her husband will be allowed to enter!
Contact me to find out how to prepare for this great event! You don't want to miss it!